Additional info:
Get ready for 3 days of nonstop gaming action, concerts, and events all under one roof at the
60,000+ sq. ft. indoor show space at the Crowne Plaza Convention Center—which we now
officially dub the CLOWN Plaza! Here you will find plenty of official tournaments for your chance
to become the prestigious World Champion at one of your favorite Dark Carnival games, including
Into the Echoside, Quest for Shangri-La, Morton's List, Juggalos Against Sanity, and the
Backyard Wrestling video game! Make sure to stop by the Games Library, where you can check
out and play hundreds of different games, as well as the Green Gaming area, where all your homies
will be hosting Juggalo-run events for the Fam, by the Fam, which you don't want to miss! There
are also tons of other gaming events, including roleplaying games; giant supersized games; Texas
Hold'em, Fowlarama, and video game tournaments; and so much more!
For the first time at DCGCON, come browse or buy some of the most infamous Tom Wood
Art creations! From his famous ICP Joker Paintings to art from Into the Echoside and
Oracle of the 3 Rings. Hopefully even the newest FFF painting!!
We will have hat pins, 8.5x11" framed prints as well as 18 x 24" limited edition prints and huge
stretched canvas pieces. Flying in? Buy it and have it shipped to your home!
Tom Wood will be there everyday to talk art and sign his work... unless he's walking around,
playing a game or possibly sleeping- but he'll definitely show up eventually.
This is the debut of the brand-new and free Big Baby Chips Casino, where you can test your luck
for a fat prize in all your favorite games of chance, including roulette, craps, the money wheel,
poker, and blackjack!
The Into The Echoside's expansion Oracles Of The Three Rings debuts at de DCG Con of 2018.
When you purchase the expansion at the DCG Con then you'll recieve the Shaggy Show Promo
Card.
In the booklet of DCG Con 2018 there was an auction item where you could be immortalized into
a Dark Carnival Game. Your name and likeness will be featured on your very own card in the
upcoming DCG board game "Board Game Bizaar," set to be released at DCG CON 2019.
Thursday May 10th, 2018 there is an official pre-party. Place to be: The Roxy Theatre,
Denver, CO. Tickets are $12 in advance and $15 at the door. The pre-party feature ABK, LSP,
TZK and Wicked Wood.
There will be exclusive merchandise available featuring Tom Wood's take on Fearless Fred Fury.
This year the Dark Carnival Games Con 2017 Time Capsule will be opened. What is in it, we will find
out after the DCG Con of 2018.
Saturday morning a note was slid under the doors of the juggalos staying at the Crowne Plaza Hotel
that stated that the DCG Con was cancelled due to safety concerns.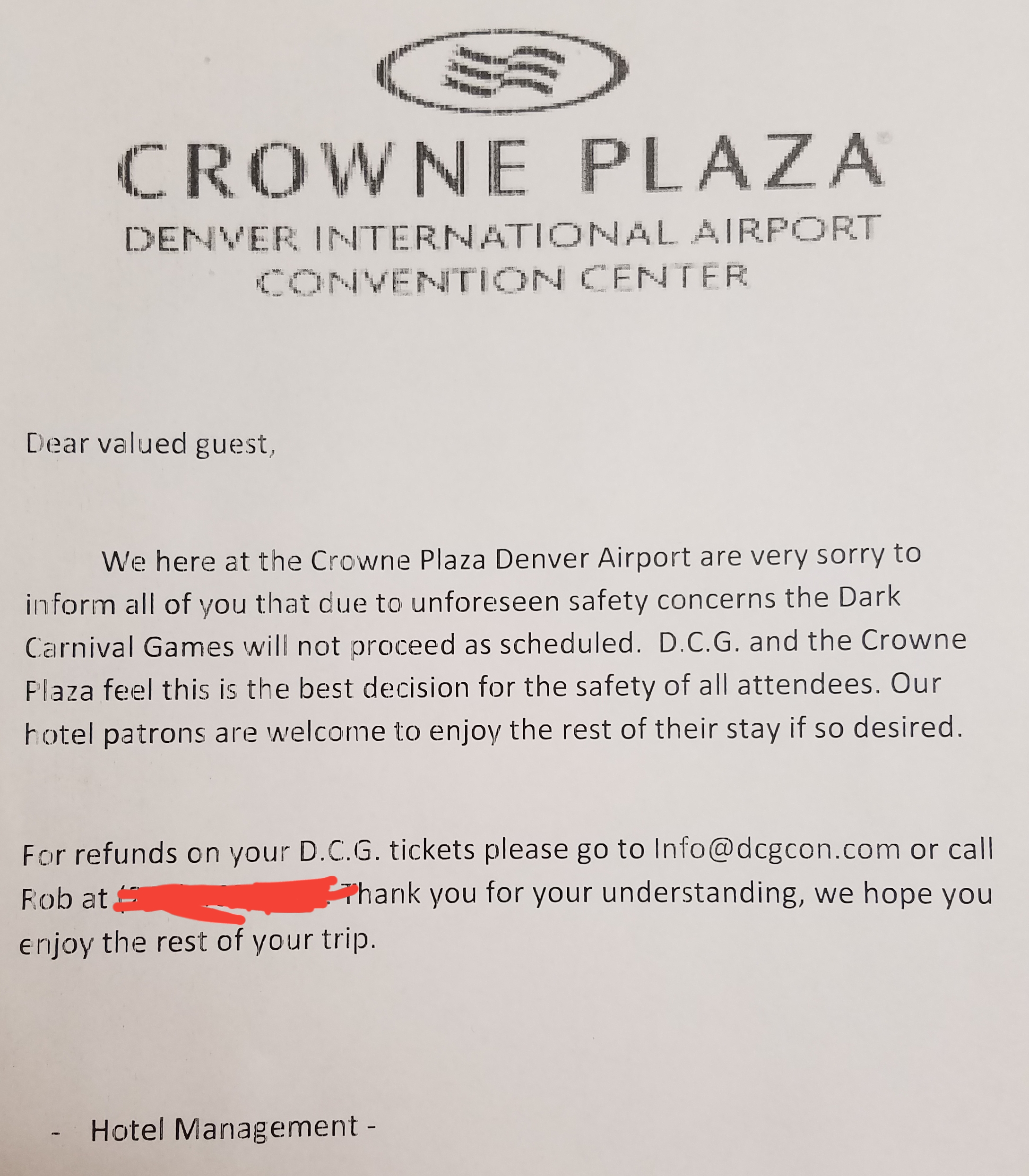 Below you can read the offical statement of ICP's facebook.
Beautiful DCG art. Beautiful DCG minds. Beautiful DCG hearts. Juggalos…we
love you. We appreciate you. And we acknowledge all your wonderful work and
creativity in making DCG a Dark Carnival blessed and beautiful space that was
truly For Juggalos, By Juggalos. However, due to circumstances that are beyond
our control, the DCG Con Conventiion Hall has been shut down, to the tears
and heartbreak of our wonderful 100% Juggalo-run staff and amazing attendees
who put their hearts and souls into making this space for our beloved Juggalo
Family. This was COMPLETELY out of our hands, ninjas. We here at
Psychopathic Records apologize and we are with you, we will be here in the hotel,
and we love you more than you will ever know. More details to come, but here is
what we can do right now as a FAMILY: Enjoy Denver TOGETHER. Enjoy our
time TOGETHER. Enjoy gaming and fresh times with EACH OTHER. Because
DCG isn't about the flashing lights, table cloths, decorations, and high-flying
ultra fresh carnival setup of the closed down convention hall. Not at all. All that
is fresh, for certain. But at the end of the day–It's about US. OUR time together
as a FAMILY. And as long as we are TOGETHER as a Family, in our minds–The
CON IS STILL ON! Stay tuned for the full rundown from the man himself,
Jumpsteady. But for now–just know. As long as we are Gathered here, can't
nobody stop our shine. BBQs, game nights, and adventure awaits. It's up to
you, ninjas! Let's keep this party going like we knowin, with clown love and
karma! It's up to you to accept the challenge and make this Con truly
Some unofficial rumors: the safety concerns had to do something between the rustle gang and the
dead gang beating up each other. It had to do something about wearing BBS clothes.
ICP's Dark Carnival show was moved to The Roxy in Denver. You could enter with your DCG
Con badge. Oracles Of The Three Rings and all exclusive DCG Con merch was available at this
show.