7 Days In Ohio: Trump, The Gathering Of The Juggalos And The Summer Everything Went Insane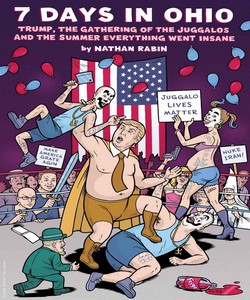 Written by: Nathan Rabin
Release: September 13, 2016
Format: E-book
File Size: 656KB
Print Size: 47 pages
From Nathan Rabin, the original head writer of the A.V Club, coiner of the phrase "Manic Pixie Dream Girl" and the author of Weird Al: The Book (with Al Yankovic), comes 7 Days in Ohio, the riveting concluding entry in the "Trilogy of Psychological Terror."
The tragicomic, pop-culture-crazed trilogy began with 2009's The Big Rewind (which The New York Times hailed as "full of caustic wit") and continued with 2013's You Don't Know Me But You Don't Like Me, which was named by Rolling Stone and Slate as one of the best books of the year.
Rabin's best book to date chronicles a surreal week the veteran pop culture writer spent covering, in rapid succession, the Republican National Convention where Donald Trump was nominated for President, possibly setting into motion a series of events leading to mankind's end, and the 17th annual Gathering of the Juggalos, Insane Clown Posse's notorious yearly festival of arts and culture.
Rabin's companion throughout this crazy adventure, Raoul Duke to his Dr. Gonzo, is the author's long-lost half brother Vince, a street-fighting welder from the mean streets of Saint Louis with a roughneck past filled with knife fights, horrific violence and almost unimaginable darkness. 7 Days in Ohio is a hilarious and surprisingly moving exploration of a unique moment in American life. It's also a story of brotherhood and family, about two very different men who find common ground in their shared affection for Insane Clown Posse. In the tradition of Fear and Loathing In Las Vegas and Rabin's previous memoirs comes the book Donald Trump doesn't want you to read (in part because he clearly hates literacy) and the most soulful, moving and even tear-jerking text about men who pretend to be wicked clowns ever written.