Date: August 03 - 06, 2022
Place: Legend Valley - Thornville, Ohio
Price:
RV/Trailer Pass: $180
Single ticket GOTJ: $220
Big Balla Campsite 20&30amp: $525
Car Pass: $110
ICP's VIP Experience: $150
ICP's Hunt For Big Smoke (wednesday night): $350
ICP's Hunt For Big Smoke (thursday & friday night): $350
Performers:
Wednesday, August 03, 2022 - Juggalo Dream
Hosted by: Mankini / DJ Devereaux & Shaggy The Airhead

#BPTF, Wiked Wood, Fat C, Mereness, The Hatchet Man Project, Super Famous Fun Time Guys, Free Will, In Dying Arms,LSP Gorehoundz Of Snuff, Yahz (Ka-Hopi), Zigzvck, Wild Bill, Polizicize, Realy Bad People, Riddy K, HB The Grizzly, Skitzo, Madd Maxxx w/ Reverend Television, Amerakin Overdose, Lorentz, Wicked Wayz
Thursday, August 04, 2022 - Jumpsteady's Dream
Hosted by: Rude Boy / DJ Chunk

The Cybertronic Spree, Odd Squad Family, Fat Nick, Steel Panther, Pouya, ICP's Super Mix Juggalo Juke Box Show, The Psykoloz, Hitman Chris, Ill Fortune, McNastee, Clooner, Motown Rage, Legz Diamond, Green Jelly, Mushroomhead, Scythe Gang 666, Group Home, Onyx
Friday, August 05, 2022 - Violent J's Dream
Hosted by: Clownvis / DJ Carlito

Roadside Ghost, Hexxx, Babytron, Mike E. Clark, Sir Mix-A-Lot, Ouija Macc, Sex Waffles, Tricky Youth, Grimm, Professor Fresh, Like A Villain, 386 Music, Ghoulavelii, Amerakin Overdose, Famz And The Hooliganz, HO99O9, Esham, Dana Dentata, Big Hoodoo
Saturday, August 06, 2022 - Shaggy's Dream
Hosted by: Kegan The Creep / DJ Clay

Tre LB, Egyptian Lover, The X-Ecutioners X Large Professor feat The Future Kingz, Slick Rick, KRS-One, Insane Clown Posse
Additional info:
Welcome to a place where reality will become a dream and your dreams will become reality. A place where imagination will unfurl, and nightmares will take form and walk among us. It is the fabled and much anticipated Gathering of Dreams! Psychopathic Records proudly presents the 22nd annual Gathering of the Juggalos music festival! Taking place August 3rd through 6th, 2021, in Thornville, Ohio at Legend Valley! It is here that your dreams will come true, not only by being surrounded by the love of your Juggalo family but by having a chance to perform or run your own event! This will be unlike any Gathering you have ever experienced because Violent J, Shaggy 2-Dope and Jumpsteady will each have a day during the Gathering where they alone will get to decide all the entrainment for that entire day. From the performers on the stages, down to what contests, wrestling or other events will be happening. Whatever they can dream up will then become reality! While on the first day of the Gathering (Aug 3rd) its your chance to have your dreams come true because on this day the Juggalos will get to decide the entrainment for that entire day by writing in and submitting their ideas. All the stages and tents will be hosting entertainment and performances put on by Juggalos for Juggalos! If you have any events for this year's Gathering you would like to put on or a chance to perform your music in front of the Juggalo world, then write in to gatheringofthejuggalos@outlook.com (up until March 31st). Together we will make this one of the most unforgettable experiences ever, as we dive into the ocean of dreams to see what fantastical adventures await! Tickets and more info will be coming soon… Whoop whoop!
Auctions:
Competitions:

Juggalo Dream:

#4 Juggalos By Juggalos Into The Echoside Tournament
Iron Gullet Competition
Juggalo Saloon And Sharpshooting Gallery
Morton's List Military Tactics Tournament
Mr. Juggalo Pageant
Queen Of Cheeks Contest
Tom Wood's Art Battle

Jumpsteady's Dream

Costume Contest
Into the Echoside Heads-Up Tournament
Juggalo Psypher Auditions
Lingerie Contest
Mad Man Pondo's JCW Tryouts
Ninja Olympics
Texas Holdem, Quest For Shangri La & Morton's List Tournaments

Violent J's Dream
Shaggy's Dream

Graffiti Contest
Live Palcast With Bar S Hot Dog Eating Competition
Miss Juggalette Contest
the MC Step Up & Flex Up Contest

Movies:

Juggalo Dream:

Curtis YouTube Show
The United States Of Insanity
Insane Clown Posse Historical Tours & Big Silva Documentary
Big Money Hustlas Extravaganza
Shockumentary

Jumpsteady's Dream:

Bad Trip
Chocolate aka Zen Warrior Within
Gantz: 0
Mad Max 2: The Road Warrior
Run Lola Run
Master Of The Flying Guillotine
1917, Evil Dead 2: Dead By Dawn

Violent J's Dream

The Wrestler
Boggy Creek Monster
Idiocracy
Bigfoot Country
Bill And Ted's Excellent Adventure
Discovering Bigfoot
Boyz N The Hood
The Legendary Barefoot Bandit
Mr Ballen Strange, Dark & Mysterious Stories
Colors

Shaggy 2 Dope's Dream:

Star Wars: Episode 1 The Panthom Menace
Star Wars: Episode 2 Attack Of The Clones
Star Wars: Episode 3 Revenge Of The Sith
Rogue One: A Star Wars Story
Star Wars: Episode 4 A New Hope
Star Wars: Episode 5 The Empire Strikes Back
Star Wars: Episode 6 Return Of The Jedi

Side Shows:

Juggalo Dream:

Big Money Hu$tla$ Extravaganza
Karaoke!
Loose Leaf Open Mic
Reno Rydaz Oneironautic Pregame Rager
Syko And Babydoll's Wedding Of Dreams
Vinnie The ICP Kid's Waffle House

Jumpsteady's Dream

Psypher Music Video Shoot

Violent J's Dream
Shaggy's Dream

Big Silva's Road To The World Record

Other Flavor:

Juggalo Dream:

5K Blacklight Charity Run: Light Up The Darkness For Suicide Prevention
Aerial Juggalo Family Photo
Clown Love Tattoo Party
Clownvis
Gathering Of The Juggalos Podcasts, Live!
House Of Horrors
Shining In Shangri-La Memorial Cookout

Jumpsteady's Dream:

Mad Movies Tent
Morton Revealed Seminar

Violent J's Dream

Helicopter Rides
Vampiro's Spoken Word

Shaggy 2 Dope's Dream:

Parties:

Juggalo Dream:

Burgher's Blacklight Anything But Clothes Costume Contest Rave And Juggstravaganza

Jumpsteady's Dream:

Axe To Tha Dome Pajama N Foam Party

Violent J's Dream

Violent J's Dance With The Dead Party

Shaggy 2 Dope's Dream:

Seminars:

Violent J's Dream

Todd Standing's Bigfoot Seminar

Shaggy 2 Dope's Dream:

Wrestling:
ICP's VIP Experience
This highly-valued pass allows you to have a special private meet-n-greet with the Insane Clown Posse themselves! With this pass, you will have an opportunity to share words, get autographs and take photos in a special VIP tent! Not only that but each ninja that purchases ICP's VIP Experience will also receive a gift bag containing the following items:
VIP Experience Laminated Pass
ICP's Super Mix Juggalo Juke Box Amulet
ICP's New Clowns on the Block, Hanging Nutz CD Single
Cherry Faygo Cola Flavor Blunt Wrap
ICP's Hunt For Bigfoot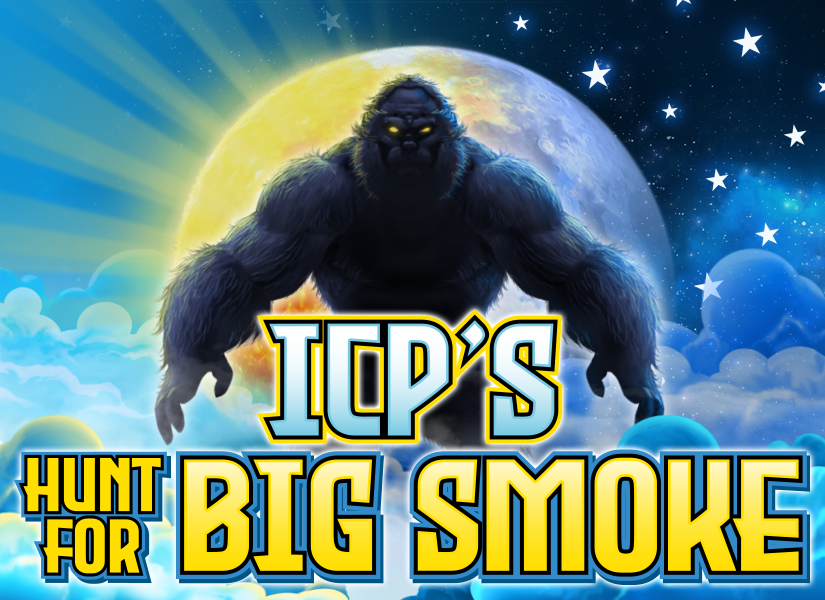 Join ICP as they search the backwoods of Ohio on a quest to find the legendary sasquatch known as Big Smoke! It is rumored that this savage creature stands over 10' tall and has been the reason that over 200 people have gone missing in the area in the last 15 years. ICP will be your guides on this hour-long hay wagon ride through the dark woods where Big Smoke has been said to lurk. Will you be able to spot this deadly creature? If you do, will you be able to survive to tell the tale? If you are lucky enough to land one of the few tickets for this epic adventure, you will also receive the following:
A gift bag containing the following collectibles:

ICP's Hunt for Big Smoke Laminated Pass
ICP's "Hunt for Big Smoke" Collectible CD Single (only 300 made)
Big Smoke Amulet
Hatchetman Key Chain

A quick Meet-and-Greet experience with ICP just before the hunt begins.
The privilege of participating in the Faygo Armageddon during the climax of ICP's set on the main stage!
The Mystery Performer
The mystery performer will be revealed in the GOTJ program at the Gathering. The mystery performer is The Clue.