Date: July 05 - 09, 2023
Place: Legend Valley - Thornville, Ohio
Price:
RV/Trailer Pass: $180
Single ticket GOTJ: $230
Big Balla Campsite 20&30amp: $550
Car Pass: $120
ICP's VIP Experience: $150
ICP's Alien Probe Adventure(wednesday night): $350
ICP's Alien Probe Adventure (thursday & friday night): $350
Performers:
Intergalatic Stage

Alien Antfarm, Arrested Development, City Morgue, Esham & Mastamind As Natas, Hexxx, ICP's Wicked Clowns From Outer Space Show, Krizz Kaliko, Kung Fu Vampire, Ouija Macc, Withney Peyton, 9 Dead, Al Mal, Freeze Martian, Klokwerk E, Korihor, Normundy, The 6ix

Martian Stage

R.A. The Rugged Man With DJ Lala, Abstrakt, Babblé The Demon, Barz, Belushi Speed Ball, Benny Buttonz, Big Fluff, Darby O' Trill, Facetatmami, Freeze MF, Gunner8, Heathensun, JVNEBVG, Kace Cayne, Kingsmen, Matt Foy, NGS, Redefind, Rob Zilla, Seenloc, Shilow, The Coursing, The God Bombs, The Human Tragedy, Tierre Diaz, Trey Magic With Splice (Doctors Of Doom, TSO Ghostly, Wil E. Haze & Faygo Gang, Zitro, Zombi3cult
Additional info:
From the deepest reaches of the outer cosmos comes an event unlike any other seen on the terrestrial sphere! Scientists are baffled! Government agencies are powerless to stop it! Creatures from every cosmic corner and constellation are descending upon the planet, bringing sights both wondrous and terrifying, with one common goal in mind: to throw an epic non-stop party beyond the Earth's comprehension! This is the 23rd Annual Gathering of the Juggalos: The Wicked Clowns From Outer Space! Prepare your feeble human brain for 4 days of out-of-this-world freshness that is so much more than a music festival! It's a Family reunion celebrating the greatest tribe in the galaxy! Outdoor live concerts, game shows, seminars, wrestling, free camping and so much more await just beyond the gates of Legend Valley when The Wicked Clowns From Outer Space invade The Gathering of The Juggalos!
The original Wicked Clowns From Outer Space Tour has gone down in history as the stuff of Juggalo legend. A nationwide Psychopathic takeover that is still talked about among Gathering campsites to this day. Now Violent J, Shaggy 2 Dope and Jumpsteady are gearing up for Phase 2 of the invasion, scaling up the flavor factor by infusing that intergalactic madness into this year's Gathering! All Juggalos are encouraged to bring their extraterrestrial A-game in preparation for the Insane Clown Posse's Earth-shattering events: The Wicked Clowns From Outer Space Show and The Wicked Clowns From Outer Space Show: Part 2! As we speak, the Psychopathic Spaceship is being loaded up with Faygo ray guns and a cadre of creatures from 17 star systems for performances that you won't want to miss!
Compititions: Costume Contest, Miss Juggalette Pageant, Tom Wood's GOTJ Art Battle, Ninja Olympics, Arm Wrestling Compitition, Queen Of Cheeks, Flowmaster Rap Battle, Juggalo Catch 21, Mr Juggalo Contest
Late Night Parties: Mike E. Clark Out Of This Atmospheric After Party, Juggalo Jim's BLT BlowDown, The Clownvis Pitch Black Flashlight & Glowstick Blastoff Party, Shaggy The Airhead & Devereaux's GOTJ Green Foam Alien Human Abduction Party
Other Flavor: Alien Encounter: A Sci-Fi Haunt, Laser Tag Battle Arena, Juggalo Flea Market, Podcast Super Show & Street Team Taco Fiesta Party, Mad Movies Tent,
Sideshows:
Wrestling: Mad Man Pondo's Wrestling Night School
ICP's Wicked Clowns From Outer Space Show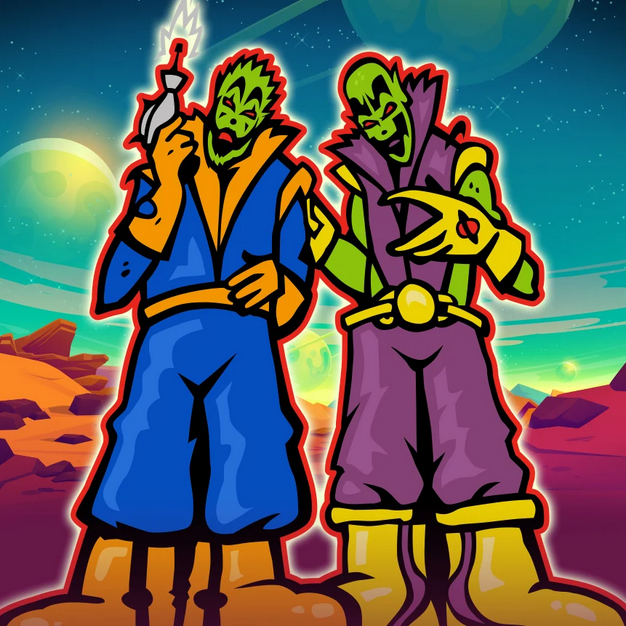 Step into the Juggalo TARDIS, we're calibrating the date and taking a space-time trip back to 1999! The original Wicked Clowns From Outer Space Tour was a touchstone moment in Juggalo history and many ninja's initiation into The Dark Carnival way of life. That's 23 years ago! Some of you ninjas were still droppin' dueces in your SpongeBob under-roos! Well lucky you, Psychopathic is taking it back like a time traveling repo man when the Insane Clown Posse brings to you The Wicked Clowns From Outer Space Show! The spectacle you will witness is a faithful recreation of the original 1999 performance, from the OG set list to elaborate creature effects courtesy of legendary SFX wizard Roy Sota! So, whether you're reliving your days as a young Juggalo or this is a performance you only wish you'd ever seen, we're bridging the gap between past and present in a musical wormhole that can only be experienced at The Gathering of The Juggalos!
ICP's Wicked Clowns From Outer Space Show Part 2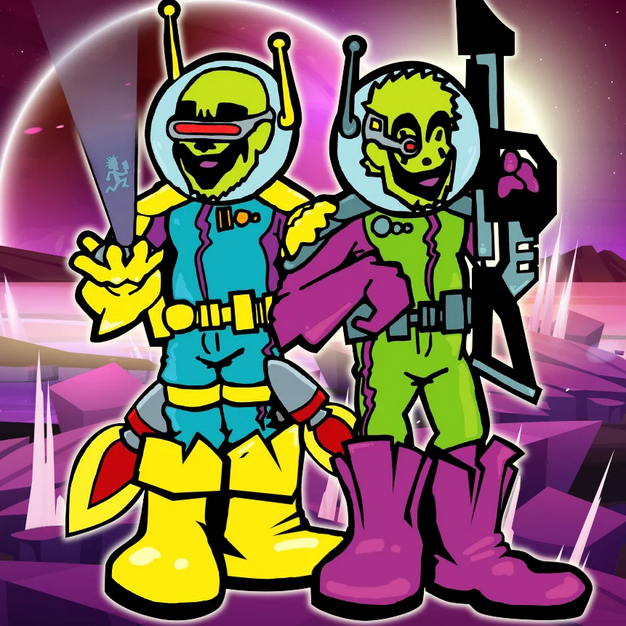 They came to Earth once before from beyond the stars, blazing a Faygo-soaked trail of space-based bedlam across the nation, leaving the planet baffled and in awe! Little did the people of what they call 'The Dirtball' suspect, that was just the recon mission! On the final day of the Gathering, Commander Violent J and Darth Shaggy 2 Dope return, bringing behind them a fleet of starships known to the intergalactic underground as The Hatchetman Armada! Prepare for The Wicked Clowns From Outer Space Show: Part 2! First conceived as a tour before the world got sucked into The Bone Zone, the show many feared would never be, comes to life as a once-in-a-lifetime Gathering performance! This ain't no George Lucas Special Edition either! This is the show as originally envisioned: Featuring all new sci-fi special effects and distinct song selection from Insane Clown Posse! It's an interstellar event of historical proportions as only The Gathering could provide!
ICP's VIP Experience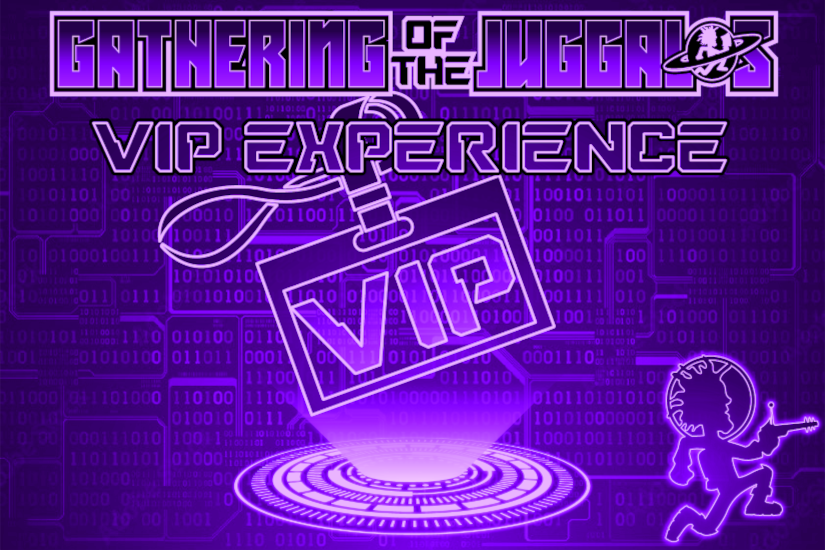 This highly valued pass allows you to have a special private meet-n-greet with the Insane Clown Posse themselves! With this pass, you will have an opportunity to share words, get autographs and take photos in a special VIP tent! Not only that but each ninja that purchases ICP's VIP Experience will also receive a gift bag containing the following items:
VIP Experience Laminated Pass
ICP Alien Paint Amulet
Hatchetman Flash Drive with the "Alien Examination" ICP Network Show
GOTJ 2023 Logo Magnet (6" x 6")
ICP's Alien Probe Adventure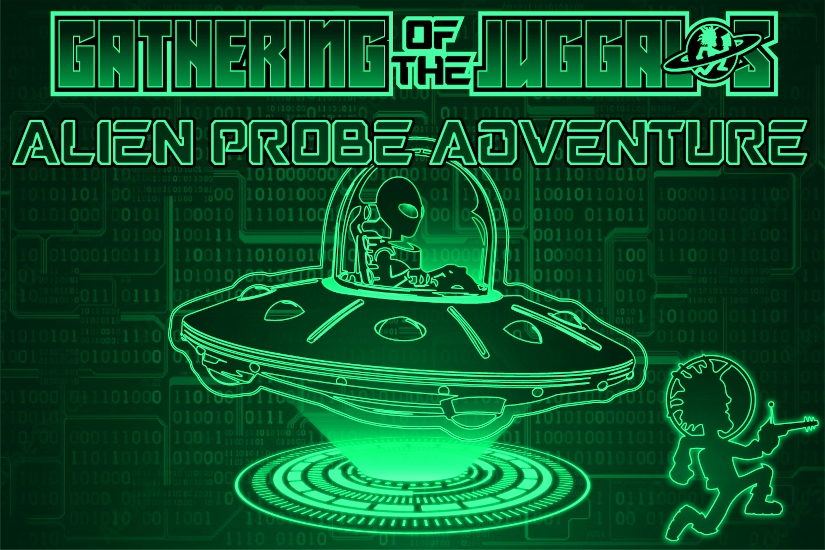 Join ICP as they explore a secluded area of Ohio's deep woods known to be a UFO hotspot! With over 130 sightings of UAP's within the last 6 months and almost a dozen firsthand accounts of alien abductions, this expedition is bound to run into extraterrestrial trouble of the third kind! ICP will be your guides, as they are joined by the illusive Kernal Chode the Ecuadorian Minister of Air Defense, on an hour-long hay wagon expedition, with a mission to unravel this mysterious ET phenomenon. Will you have an otherworldly encounter that could result with your orifices being probed? If you are lucky enough to land one of the few tickets for this epic adventure you may just find out! With this adventure you will also receive:
A gift bag containing the following collectibles:

Alien Probe Adventure Laminated Pass
ICP's "Wicked Clowns from Outer Space" Collectible CD Single (300 made)
UFO Hatchetman Amulet
Hatchet Spaceman Hat Pin
GOTJ Alien Green Glowstick

A quick Meet-and-Greet experience with ICP just before the adventure begins.
The privilege of participating in the Faygo Armageddon during the climax of ICP's set on the main stage!
Mike E. Clark's Out of this Atmospheric After Party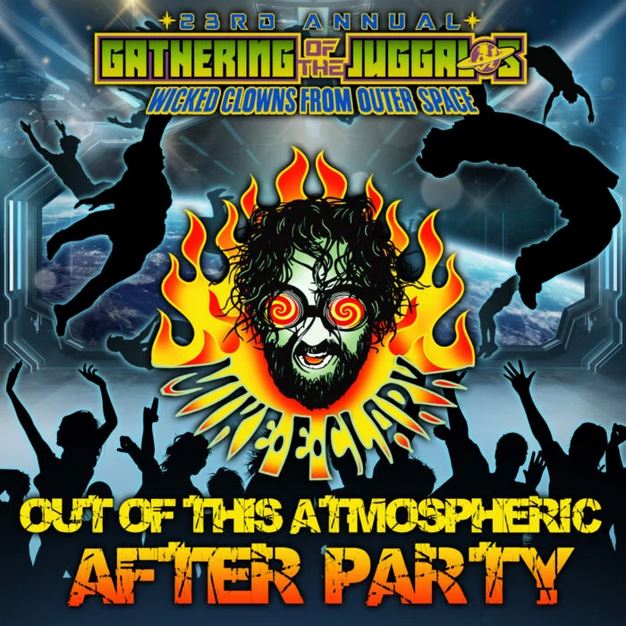 Rumor has it the OG mad scientist Mike E. Clark has been in clandestine collaborative contact with The Wicked Clowns From Outer Space for decades, so they've called upon their greatest Earthling conspirator to celebrate a successful invasion by closing out The Gathering of The Juggalos in epic Psychopathic intergalactic fashion! In the wake of all the outer space insanity that has descended upon this year's Gathering, the planet is forever changed, and all that's left to do is party! All Juggalos are invited to rejoice in the world remade by getting down to their favorite Dark Carnival classics, chopped, remixed and reassimilated by the master of the murder mix himself, Mike Clark! His legendary mash-ups flip familiar tunes you know and love to become brand new boogies that are a different animal entirely like an alien shape-shifter! We're taking it out the atmosphere for this final event, but like Mike himself we don't stop, we just turn it all around Gathering-style, baby!
Chapter 17 Presents: Juggalo Jim's BLT BlowDown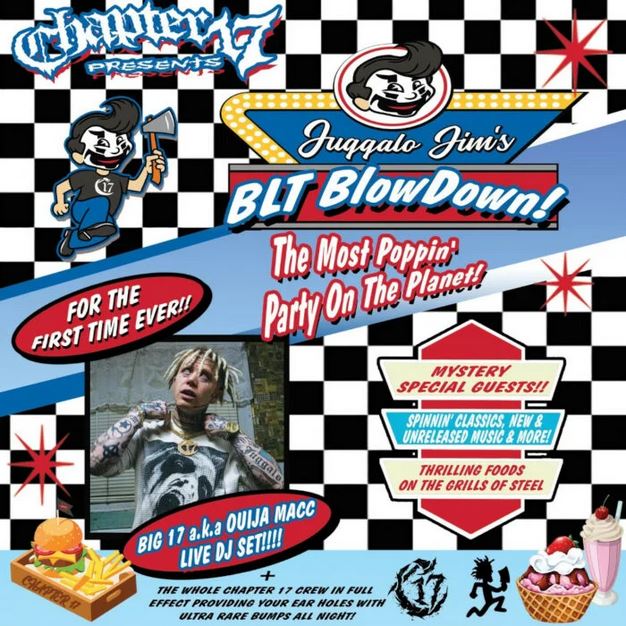 The whole Chapter 17 crew will be in full effect providing your ear holes with some ULTRA RARE bumps going all night long. Big 17 aka Ouija Macc himself will be playing a DJ set for the first time ever! You'll be hearing unreleased tracks, wicked shit classics, new music, remixes, deep cuts, dance music, and all types of freshness! Might just bring a lil taste of DARCC 2 tha PLANET!! Mystery special guests and mad flavor you just have to be there to witness live in person. Fucc your sleep, Bring your appetite! Thrilling Foods Bakon will be grillin' all night!!! No Juffs allowed besides our dear Uncle Juffy!! CHAPTER 17!!!!
The Clownvis Pitch Black Flashlight & Glowstick Blastoff Party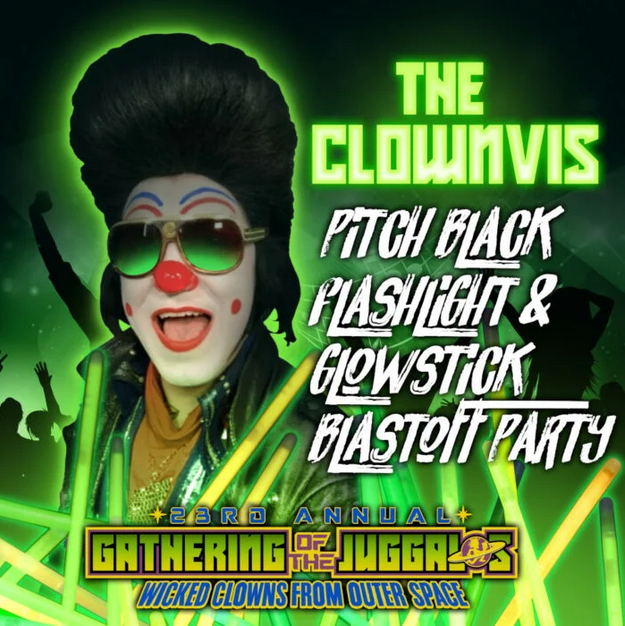 Buckle up and prepare for blastoff because we're going deep space with it, courtesy of the consummate circus crooner, Clownvis! Five minutes with this guy is enough to know he's not from this planet, so who better to host a throw down that captures the vibe of an entire galaxy? We're talking a party staged in full darkness as the music bumps, save for the cosmic phenomenon of glowsticks illuminating the mysterious figures dancing like Oort clouds across the solar system! Be sure to pack your flashlight, strobe bracelets and any fresh lighting effects to bring your own Juggalo starlight shine to the proceedings! In space nobody can hear you scream, but fuck that, we came to see you rage!
Shaggy the Airhead & Devereaux's GOTJ Green Foam Alien Human Abduction Party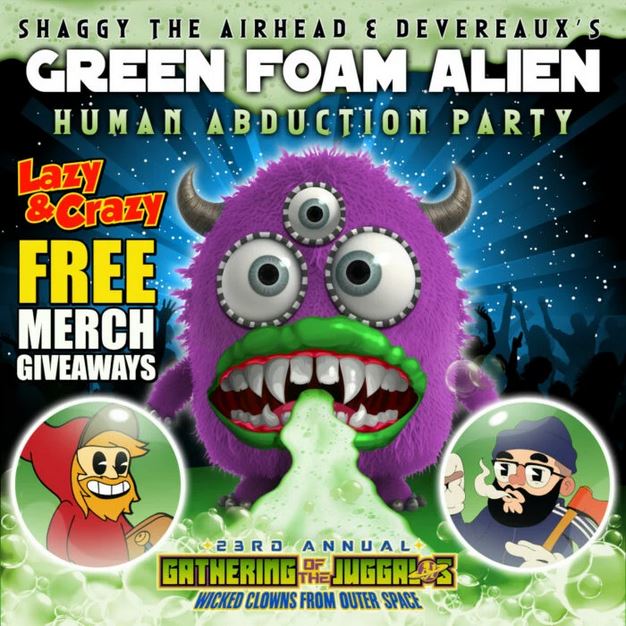 The Wicked Clowns From Outer Space have invaded, but their earthbound tactics are just one element of the takeover! You're now captured aboard the mothership, where the extraterrestrial beat blastin' heat masters Devereaux and Shaggy the Airhead have been tasked with performing outrageous experiments on your human senses! They're set to test the effect of beaming strong audio vibrations on the Juggalo body while immersing it in the foamy green regurgitation of a beast from beyond the stars! Keen-eyed ninjas might recognize the familiar E.T. homie filling up the dance floor with its frothy gut flora, but don't stare too long! Every now and then this hungry space creature will straight up devour a party goer to the delight of the alien overlords and Juggalos alike! HOLY SHIT! We're going off-world and off the rails at The Gathering of The Juggalos!